Pediatrics
SERVICES AVAILABLE  
| | |
| --- | --- |
| 1 | NEONATAL INTENSIVE CARE UNIT |
| 2 | PEDIATRIC INTENSIVE CARE UNIT |
| 3 | IMMUNIZATION |
| 4 | PEDIATRIC EMERGENCY SERVICES |
| 5 | GENERAL PEDIATRICS |
OUR DOCTERS TEAM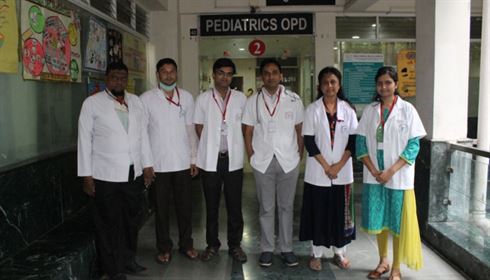 SPECIALITY CLINIC
-High Risk clinic
- Thalassemia day care
- Endocrinal Clinic
-Neurology clinic
-Diarrhea clinic
-Hematology Clinic
-Asthma clinic
-Nephrology clinic
-Well baby clinic
-Cardiac Clinic
NEONATAL INTENSIVE CARE UNIT
Our NICU unit is equipped with servo controlled Radiant warmer, ventilator, CPAP, LED Phototherapy, State of Art Multipara Monitor, Infusion and Syringe pump. We provide routine newborn care, Phototherapy, exchange transfusion in care of severe Jaundice, post operative surgical care and care to critically ill neonate as young as 28 weeks and weight of 850 gm.
We have 6 bedded NICU, which is managed by well trained nursing staff, Junior and Senior consultant for 24×7.
PEDIATRIC INTENSIVE CARE UNIT
Pediatric Intensive care unit provides care of sick children with round the clock monitoring. It is 10 bedded unit with ventilator, CPAP, multipara monitor, Infusion pump, nebulization. Facility to do bed side ECHO, Central line Insertion, Renal Dialysis are also available.
IMMUNIZATION
All Babies ( Inborn /Outborn) are vaccinated tree of cost according to National Immunization Schedule. Immunization chart are also given to parents along with Discharge Summary Special vaccine are also Given, as per Parent Request.
NO.OF UNIT IN DEPARTMENT  
OPD DAYS  
| | |
| --- | --- |
| I | Monday, Thursday, 1st Sunday & 4th Sunday |
| II | Tuesday, Friday, 2nd Sunday & 5th Sunday |
| III | Wednesday, Saturday, 3rd Sunday |
| | |
| --- | --- |
| I | 30 Bedded |
| II | 30 Bedded |
| III | 30 Bedded |
| NICU | 06 Bedded |
| PICU | 10 Bedded |