Respiratory Medicicne
SERVICES AVAILABLE  
| | |
| --- | --- |
| 1 | COMPREHENSIVE CHEST EXAMINATION |
| 2 | INTERVENTIONAL PULMONOLOGY |
| 3 | ADULT AND PEDIATRICS FLEXIBLE BRONCHOSCOPY |
| 4 | ADULT AND PEDIATRICS RIGID BRONCHOSCOPY |
| 5 | MEDICAL THORACOSCOPY |
| 6 | INTENSIVE CARE SERVICES (ICU) |
| 7 | POLYSOMNOGRAPHY (SLEEP STUDY) |
| 8 | PULMONARY FUNCTION TESTING |
| 9 | ALLERGY TESTING AND MANAGEMENT |
| 10. | TUBERCULOSIS DIAGNOSIS AND MANAGEMENT |
| 11. | ASTHMA / COPD DIAGNOSIS AND MANAGEMENT |
| 12. | INTERSTITIAL LUNG DISEASES DIAGNOSIS AND MANAGEMENT |
| 13. | MANAGEMENT OF COMPLEX MULTISYSTEM DISORDERS INVOLVING LUNGS |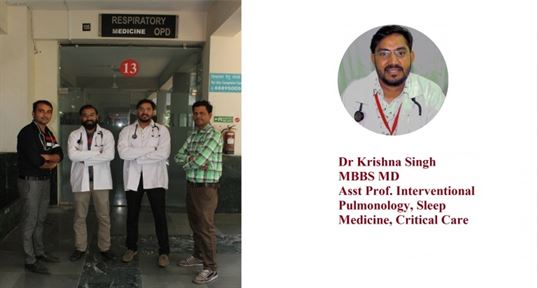 INTERVENTION PULMONOLOGY
Our Interventional Pulmonology team provides diagnostic and therapeutic interventions by employing video-assisted flexible bronchoscopy, rigid bronchoscopy, thoracoscopy guided procedures. They deal with complications of tracheostomy and intubation (tracheal &
bronchial stenosis), relapsing polychondritis, tracheo-bronchomalacia, lung nodules, lung masses & cancers, haemoptysis (blood in sputum), pleural effusions (fluid in the pleural spaces surrounding the lungs), enlarged lymph nodes between the lungs (hilar & mediastinal lymphadenopathy).
FLEXIBLE BRONCHOSCOPY
Enable tracheobronchial tree visualization and bronchoscopic procedures- bronchial washings, TBNA, TBLB, endobronchial biopsy.
CLINICAL APPLICATIONS
» Evaluation of conditions
» Abnormalities of airway
     Inflammatory conditions of lungs
     Sarcoidosis
     Lymphoma
     Tuberculosis
      Pneumonia
      Fungal or parasitic lung infection
» Lung Cancer Diagnosis
RIGID BRONCHOSCOPY
For patients who are not candidates for fibre-optic bronchoscopy, rigid bronchoscopy is the preferred diagnostic and therapeutic technique.
CLINICAL APPLICATION
Tumour Debulking,
Tracheal and bronchial stenosis management Tracheal and bronchial stenting
Hemoptysis management Foreign body retrieval
THORACOSCOPY / PLEUROSCOPY
In this procedure, a thoracoscope (camera) is used to examine the space surrounding the lungs. The camera is inserted via a small hole (1-2 cm) under local anaesthesia and a careful examination of the space is done and biopsies are taken under direct vision as opposed to the blind biopsies done previously.
CLINICAL APPLICATION
Undiagnosed Pleural effusion
Complex pleural effusion and pyothorax management
Inspection of lungs, pleura and mediastinum for evidence of abnormalities.
INTERCOSTAL DRAIN / CHEST TUBE
Lungs are covered by 2 layers of pleura. Fluids, air, blood, pus can accumulate in this potential space due various diseases, causing collapse of the lung. To re-expand the lungs by removing the fluid/air, a small tube is inserted into this cavity. The procedure can also be performed under ultrasound guidance.
SLEEP DISORDER CLINIC
Polysomnography, also called a sleep study, is a test used to diagnose sleep disorders. Polysomnography records your brain waves, the oxygen level in your blood, heart rate and breathing, as well as eye and leg movements during the study.
CLINICAL APPLICATIONS
Obstructive sleep apnea,
Snoring, insomnia, restless leg syndrome. Obesity hypoventilation syndrome Breathing difficulty during sleep.
Parasomnias- Narcolepsy, sleep walking etc
PULMONARY FUNCTION TESTING (PFT)
The various pulmonary function tests are used to assess the breathing capacity/lung capacity of individuals. A team of experienced and trained technicians perform PFTs in the PFT lab. They are useful in the
diagnosis of conditions like Asthma, ILD, and COPD. They are also used in the assessment of the lung capacity prior to major surgery and air-travel. In addition, it also helps in analysing the effectiveness of medications.
CLINICAL APPLICATION
» Diagnosing and monitoring of lung condition due to respiratory diseases, such as chronic obstructive pulmonary disease, interstitial lung disease, bronchitis, emphysema and asthma
» Diagnosing cause of shortness of breath
» Monitoring prognosis
» Assessing the effectiveness of treatment
» Examining the consequences of chemical exposure, resulting in abnormal lung function
SERVICES AVAILABLE
CHEST XRAY
COMPUTERISED TOMOGRAPHY(CT SCAN)
MICROSCOPIC EXAMINATION OF SPUTUM AND BODY FLUIDS CBNAAT/ GENE XPERT
FINE NEEDLE ASPIRATION CYTOLOGY (FNAC) MOUNTOUX TEST
INTERSTITIAL LUNG DISEASES CLINIC
Interstitial lung disease are large group of disorders, most of which cause progressive scarring of lung tissue. The scarring associated with interstitial lung disease eventually affects your ability to breathe and get enough oxygen into your bloodstream.
SYMPTOMS
The primary signs and symptoms of interstitial lung disease are:
» Shortness of breath at rest or aggravated by exertion
» Dry cough
RISK FACTOR
» Interstitial lung disease is much more likely to affect adults, although infants and children sometimes develop the disorder.
» Exposure to occupational and environmental
» Gastroesophageal reflux disease
» Some forms of interstitial lung disease are more likely to occur in people with a history of smoking, and active smoking may make the condition worse, especially if there is associated emphysema.
» Radiation and chemotherapy
SERVICES AVAILABLE
» DIAGNOSIS AND MANAGEMENT OF DISEASES
» SARCOIDOIS
» IPF(INTERSTITIAL PULMONARY FIBROSIS) HYPERSENSITIVITY PNEUMONITIS
» VASCULITIS ASSOCIATED ILD'S CONNECTIVE TISSUE RELATED ILD'S.